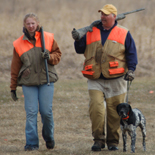 Wisconsin Championship Hunting Series
Event Results (all pdf files)
current season | 2012-2013 | 2011-2012 | 2010-2011 | 2009-2010 | 2008-2009 | 2007-2008
Events...
Wisconsin State Invitational @ Little Creek Lodge
Northeastern Wisconsin Chukar Challenge @ Wolf River
Southern Wisconsin Chukar Challenge @ Magnolia
Southeastern Wisconsin Chukar Challenge @ Hunters Point
Northwestern Wisconsin Chukar Challenge @ Little Hills
Central Wisconsin Chukar Challenge @ Woods & Meadow

Wisconsin State Invitational
Little Creek Lodge
April 2-3, 2011
Flusher: Amateur, Double, Hunter, Mixed Double, Puppy, Single Field A, Single Field B, and Single Combo

Pointer: Amateur, Double, Hunter, Mixed Double, Puppy, Single Field A, Single Field B, and Single Combo
AMATEUR FLUSHER WINNERS

AMATEUR POINTER WINNERS

Champion

Ratchet & Mark Gonyo

Champion

Mac & Chris Barnsdale

Reserve Champion

Zeheva & John Bundy

Reserve Champion

Jackson & Tyler Hanson

Third Place

Reggie & Tyler Hanson

Third Place

Jackson & Tyler Hanson
DOUBLE FLUSHER WINNERS

DOUBLE POINTER WINNERS

Champion

Ruby & Jeff Lecher/Kevin Kimmes

Champion

Einstein & Bob Garrity/RJ Teune

Reserve Champion

Drake & Jeff Lecher/Kevin Kimmes

Reserve Champion

Trigger & Jamie Palmer/Craig Steinbach

Third Place

Tikka & Jerry Brost/Jake Smazinski

Third Place

Albert & Bob Garrity/RJ Teune

HUNTER FLUSHER WINNER

HUNTER POINTER WINNER

Champion

Autumn & Kevin Kimmes

Champion

Madelyn & Jeff Lecher

MIX DOUBLE FLUSHER WINNERS

MIX DOUBLE POINTER WINNERS

Champion

Harley& Katrina Mueller/Tim Samelstad

Champion

Jake & Jenna Kerstner/Travis Ruether

Reserve Champion

Star & Cathy Bosman/Scott Lautenbach

Reserve Champion

Fancy &Jenna Kerstner/Travis Ruether





Third Place

Ozzy & Katrina Mueller/Adam Vonnahme

PUPPY FLUSHER WINNERS

PUPPY POINTER WINNERS

Champion

Kid & Ken Neese/Dale Neese

Champion

Joey & Adam Vonnahme/Dick Hynes

Reserve Champion

Ruby & Jeff Lecher/Kevin Kimmes

Reserve Champion

DJ & Jack Heim/Craig Steinbach

Third Place

Bella & Mike Vaughn/Tim Stamelstad

Third Place

Blaze & RJ Teune/Bob Garrity

SINGLE FLUSHER WINNERS

SINGLE POINTER WINNERS

Champion

Duke & Dale Neese

Champion

Madelyn & Mark Zeitler

Reserve Champion

Vince & Ron Buisman

Reserve Champion

Trigger & Mark Zeitler

Third Place

Tilly & Kevin Kimmes

Third Place

Jackson & Mark Kerstner
Northeastern Wisconsin Chukar Challenge
Wolf River Game Farm
March 19-20, 2011
Flusher: Amateur, Double, Hunter, Puppy, Single Field A, Single Field B, and Single Combo

Pointer: Amateur, Double, Puppy, Single Field A, Single Field B, and Single Combo

BDC Major Status: Single Flusher and Pointer
Southern Wisconsin Chukar Challenge
Magnolia Game Farm
March 5-6, 2011
Flusher: Amateur, Double, Hunter, Puppy, Single Field A, Single Field B, and Single Combo

Pointer: Amateur, Double, Hunter, Puppy, Single Field A, Single Field B, and Single Combo

BDC Major Status: Single Flusher and Pointer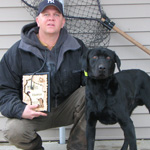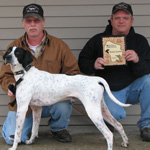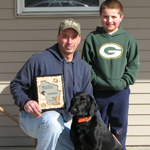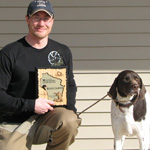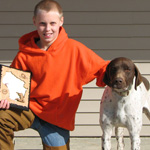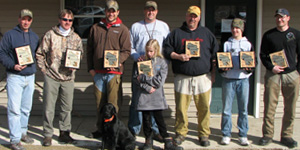 Southeastern Wisconsin Chukar Challenge
Hunters Point Hunt Club
January 22-23, 2011
Flusher: Amateur, Double, Hunter, Puppy, Single Field A, Single Field B, and Single Combo

Pointer: Amateur, Double, Puppy, Single Field A, Single Field B, and Single Combo

BDC Major Status: Single Flusher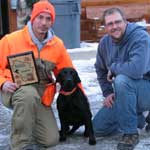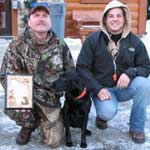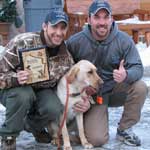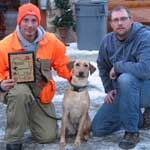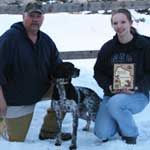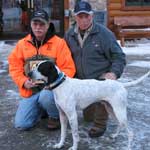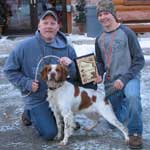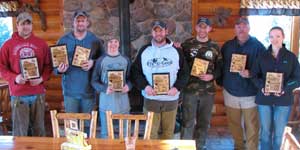 Northwestern Wisconsin Chukar Challenge
Little Hills Hunting Preserve
January 8-9, 2011
Flusher: Amateur, Double, Hunter, Puppy, Single Field A, and Single Field B
Single Flusher Overall
Champion - Cash (Ramer), Rob Ramer
Reserve Champion - Tikka (Brost), Jerry Brost
Third - Tikka (Brost), Jake Smazinski
Fourth - Jacks (Vaughn), Mike Vaughn
Fifth - Drake (Lecher), Jeff Lecher
Pointer: Amateur, Double, Hunter, Puppy, Single Field A, and Single Field B
Single Pointer Overall
Champion - Shrek (Jentzsch), David Oberle
Reserve Champion - Trigger (Palmer), Jamie Palmer
Third - Jackson (M. Hanson), Mark Hanson
Fourth - Madelyn (Vonnahme), Mark Sweeney
Fifth - Jackson (M. Hanson), Mark Kerstner
BDC Major Status: Single Flusher and Single Pointer

Central Wisconsin Chukar Challenge
Woods & Meadow
December 11-12, 2010
Dear Competitors,
Oh my! Mother nature was NOT kind! Thank you to those who came and survived the first day of the event. After getting a 4:45 AM call from Scott, owner of Woods & Meadow, we took the liberty of canceling the Sunday portion of the event. (Our apologies for the early Sunday morning phone call.) We figured that 22 inches of snow blowing into 4 and 5 foot drifts was not something that you and your dogs would want to tackle. We know chukar tastes good, but not that good. :)
Unfortunately we did not get out into the fields with the camera on Saturday, we probably would have just captured a blur of white anyway, and we don't have our Sunday afternoon awards photo. But we were able to snap a few photos leaving Woods & Meadow. If you look carefully you can see Karl in his S-10 trailing the pack. Yes, 2WD S-10. Craig and I were leading the way, followed by Cody in Krug's rig, Jeff, and finally Karl. When we made it to the interstate intersection the first thing Karl said was "Dude, I was more scared driving my truck that I was before I went skydiving!!!" We are still not sure how Karl made it through. The "S" in S-10 must not only stand for "sweet" ride, but also "super-snow" dodging ride.
Even though it was a nasty weekend in terms of weather, the bit of time that we did get together again was full of fun competition, laughs, and awesome homemade cupcakes topped with chocolate shotgun shells. In looking at the results, you will notice that there was a battle in the puppy fields. Those young dogs, as did the big dogs, worked so hard to please their owners by finding birds in that snow storm.
And, the storm didn't dampen the club's spirits. Before we left on Sunday, Scott shared with us that he really appreciated having us come out to his club again and looks forward seeing us next year.
Again, thank you for taking part in this crazy event. We look forward to hopefully a more pleasant event at Little Hills after the New Year.
Take care, Merry Christmas, and Happy New Year to you and your family and friends!
Craig and Teri
P.S. And, when we got home...oops! Shhhh, Craig doesn't know I'm posting his meeting with the ditch by our back driveway. :) With a few, actually more than a few tugs, we all made it out just fine. As I always say, everyday is an adventure with Steiny.